In today's digital world, the significance of cybersecurity cannot be overstated. As of 2023, the staggering average cost of a data breach in the United States alone amounted to 9.48 million USD, while the global average was 4.45 million USD. Recognizing Cybersecurity Month, these figures emphasize the urgent need to strengthen our cyber defenses.
Numerous enterprises turn to platforms like SAP to streamline operations, it's become clear that the most secure way to utilize SAP is through AWS. Pairing the efficiency of SAP with the fortified security of AWS provides companies with an edge against ever-evolving cyber threats. 

EPI-USE, with its expertise in both domains, stands ready to guide businesses through this integration, ensuring trust, reputation, and uninterrupted operations in our complex digital era.
Understanding Today's Cyber Threat Landscape
Recent data provides some insights into the challenges businesses face in cybersecurity. From the Deloitte Center for Controllership poll, we learn that 34.5% of executives shared that their organizations' financial data had been targeted by cybercriminals over the last year. 

Such figures reinforce the need for vigilance and proactive measures in our modern digital era. This serves as a crucial reminder: even sectors we believe are most secure, like financial departments, are not exempt from cyber threats.
The Financial Toll of Cyber Threats
While the vulnerability of data is concerning, the monetary implications of cyber attacks are equally pressing. By 2023, the yearly global cost of cybercrime is projected to be a staggering $8 trillion USD, with potential financial damages anticipated to climb to $10.5 trillion by 2025. 

These aren't just abstract figures; they echo the tangible impacts of potential job losses, economic shifts, and disruptions in our everyday routines. As businesses increasingly rely on technology, the financial importance of fortified cybersecurity becomes even more paramount.
The Growing Concern: Mobile Threats
With the rise in mobile device usage comes a unique set of vulnerabilities. In 2022, there was an unprecedented surge in mobile phishing rates, with nearly half of mobile users worldwide encountering a phishing attempt at least once every quarter. 

This highlights the risks we unknowingly accept in exchange for the conveniences these devices offer. The threats are broadening too. Beyond traditional email scams, we're seeing a surge in tactics like voice phishing, SMS phishing, and QR code phishing. 

As mobile devices continue to weave themselves into the fabric of our professional and personal lives, a comprehensive approach to security becomes increasingly essential.
SAP on AWS: Delving into the Security Advantages
As businesses across the globe prioritize cybersecurity, AWS's collaboration with SAP emerges as a beacon of hope. SAP on AWS isn't merely a fusion of two giants; it's a calculated blend of security features tailored for today's intricate digital landscape:
Infrastructure Integrity:

AWS boasts a vast global infrastructure. This ensures that data is stored redundantly across multiple locations, mitigating the risk of data loss or outages.

Proactive Monitoring & Compliance:

AWS offers robust monitoring tools like Amazon CloudWatch for real-time threat alerts. Additionally, AWS surpasses standard compliance by supporting 90+ security certifications and uniquely qualifies for top-secret workloads, including 40+ services authorized at DoD Impact Level 6 for the AWS Secret Region.

Enhanced Data Encryption:

AWS offers advanced encryption features, ensuring that data, whether at rest or in transit, is always protected. With AWS Key Management Service (KMS), managing cryptographic keys becomes seamless, adding another layer of security to the mix.

Sophisticated Access Management:

AWS's Identity and Access Management (IAM) allows businesses to control user access, ensuring only authorized personnel can access sensitive data.
Running your SAP applications on AWS not only promises scalability and flexibility but also a fortified security posture. Contrary to the age-old adage that cloud platforms are just "someone else's computers," deploying SAP workloads on AWS often proves more secure than on-premise solutions, helping enterprises meet stringent regulatory requirements and further secure their operations.
EPI-USE: Complementing the SAP on AWS Security Paradigm
While AWS and SAP together provide a robust security foundation, EPI-USE brings in the tailored touch, ensuring that businesses get the most out of this potent collaboration:
Customized SAP Migrations: EPI-USE appreciates the uniqueness of every business. By taking time to understand these distinct needs, we guarantee that SAP on AWS aligns with business objectives while upholding modern security standards. Our Proof of Concept (PoC) services further enhance this alignment, allowing businesses to test the feasibility of their SAP migrations in a controlled environment, mitigating potential risks. With our tried and tested SAP AWS migration methodology, we enable businesses to select and migrate only the essential SAP data to AWS via our SAP-certified Data Sync Manager (DSM) solution. The Data Secure solution actively secures sensitive data in non-production environments, ensuring businesses remain compliant with privacy regulations like GDPR and CCPA. This not only reduces the size of non-production systems but also yields significant savings on runtime costs.


Optimized Cost Management: Security shouldn't come at an exorbitant price. EPI-USE helps businesses optimize their SAP on AWS expenses, ensuring a balance between top-tier security and cost-effectiveness.


Addressing On-Premises Challenges: Numerous enterprises with on-site SAP encounter complications like expensive IT structures, obsolete infrastructure, and rigorous security protocols. Aggravated by the internal strain to cater to augmented demands and ensure data protection, these challenges can obstruct performance, scalability, and security. Identifying these issues, EPI-USE strongly supports SAP on AWS cloud solutions, because of the versatile infrastructure that's perfect for immediate needs and prospective expansion.


Data Privacy and Compliance: We incorporated the best practices of the ISO27001:2013 information security standard and implemented technical and organizational measures in accordance with ISO27701:2019 including regulations such as the GDPR to show our commitment to information security and data privacy. The Cloud Hosting and Managed Services division in EPI-USE Labs also holds SOC 2 type 2 attestation and is closely integrated into- and supports the EPI-USE AWS services. Our team offers insights into data storage within SAP systems, helping customers understand affected data types, and assisting with decisions and processes to maintain compliance. Building on that foundation, our Data Secure solution ensures that sensitive data in non-production environments remains protected, aligning with stringent regulations such as GDPR and CCPA. Our extensive privacy and protection policy also covers a range of consulting activities, from software implementation and provisioning platforms to service desk support and beyond. Additionally, EPI-USE emphasizes a holistic approach to data privacy, encompassing general consulting involving customer systems ranging from software implementation to provisioning platforms and more, as part of our extensive privacy and protection policy.


Ongoing Support & Education: Cybersecurity is an evolving journey, and EPI-USE pledges continuous companionship. We provide ongoing support, training sessions, and updates, keeping businesses abreast of the latest in cybersecurity, ensuring a more secure digital experience.


Charting the Path Forward: EPI-USE's Dedication to Supporting Secure Digital Transformation
In an economy where data drives decisions and operations, the importance of robust cybersecurity cannot be emphasized enough, especially as we commemorate Cybersecurity Month. The combination of SAP and AWS provides a solid foundation against cyber threats. 

To optimize the SAP system for cloud operations and ensure security, understanding the current landscape and challenges is vital. EPI-USE offers the SAP on AWS Discovery & Landscape Assessment, providing a detailed overview of your SAP setup and alignment with the AWS Well-Architected Framework. This assessment aids organizations in spotting potential challenges and charting a path for migration.
With knowledge in both SAP and AWS, EPI-USE aims to support and guide businesses through their cybersecurity journey. In this rapidly advancing digital age, we simply offer our expertise, hoping it assists businesses in their endeavors.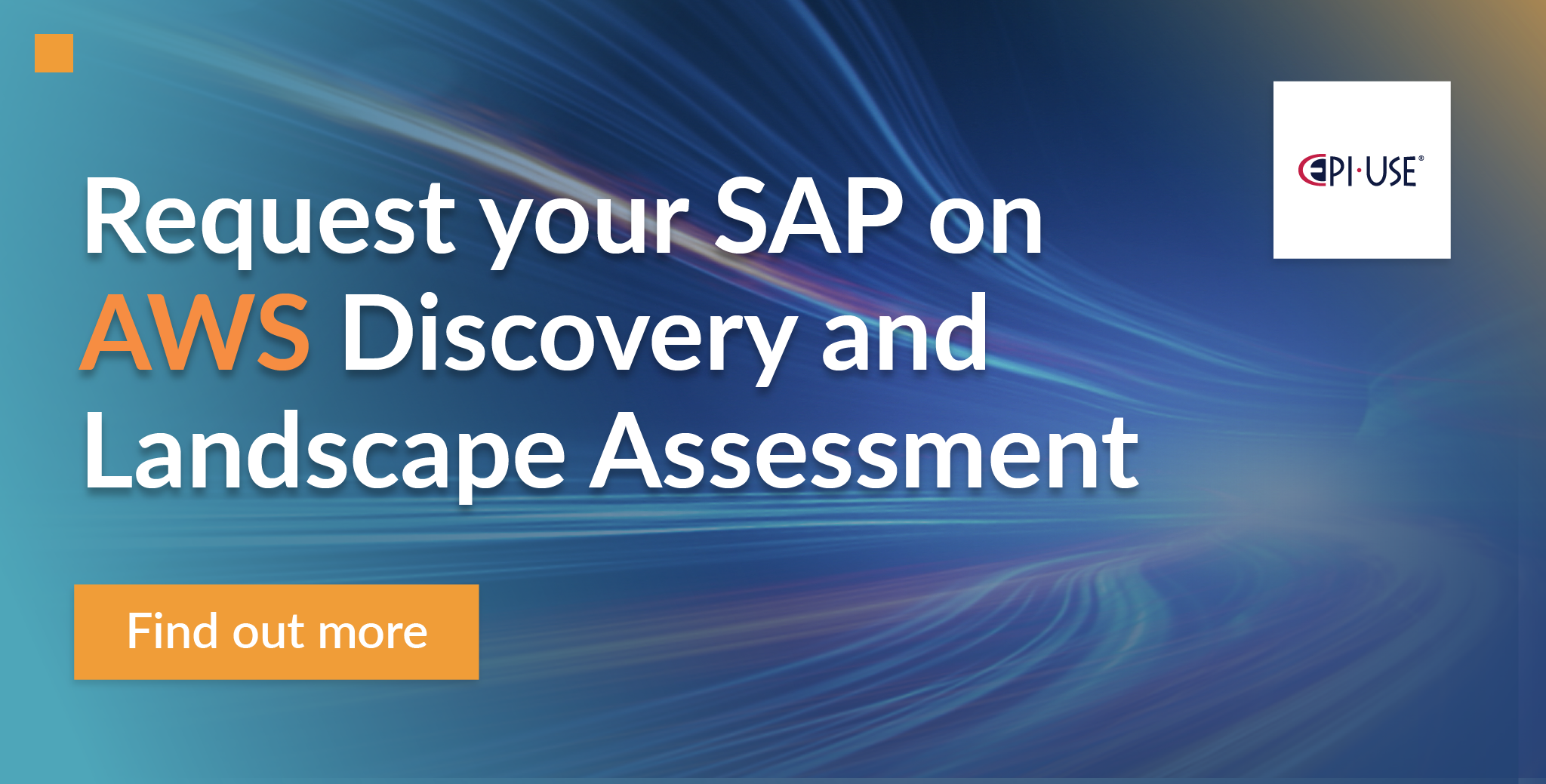 Data Security
,
SAP
,
SAP Landscape
,
SAP S/4HANA
,
AWS
,
SAP data privacy and compliance
,
SAP S/4HANA Assessment
,
SAP data privacy & security
,
AWS Cloud Migrations
,
Amazon Web Services (AWS)
,
SAP on AWS