Global Payroll?
Solved.
With PayrollExpress (PEX®), multinational corporations can now deploy SAP payroll for 100% of their global employee population on an affordable basis, giving them improved local payroll tax compliance, consistent global processes and reporting, and a single integrated source of the truth.
Why is Global Payroll a perennial challenge for multinational corporations?
A multiplicity of payroll engines, to allow for coverage of small employee-population countries, is at or near the top of the list of reasons.

Many MNCs effectively use SAP® for large employee-population countries, but their payroll compliance efforts are oftentimes compromised by the need to use low-cost, 3rd-party payroll engines where SAP® cannot be affordably implemented.

Not only does this multiple payroll engine landscape impair payroll compliance, but it can also risk data security and the accuracy of global reporting.

SO, WHAT'S THE ANSWER TO THE CONUNDRUM?
MNCs need full coverage of the employee population on SAP®. But that cannot be done on an affordable basis. Or can it?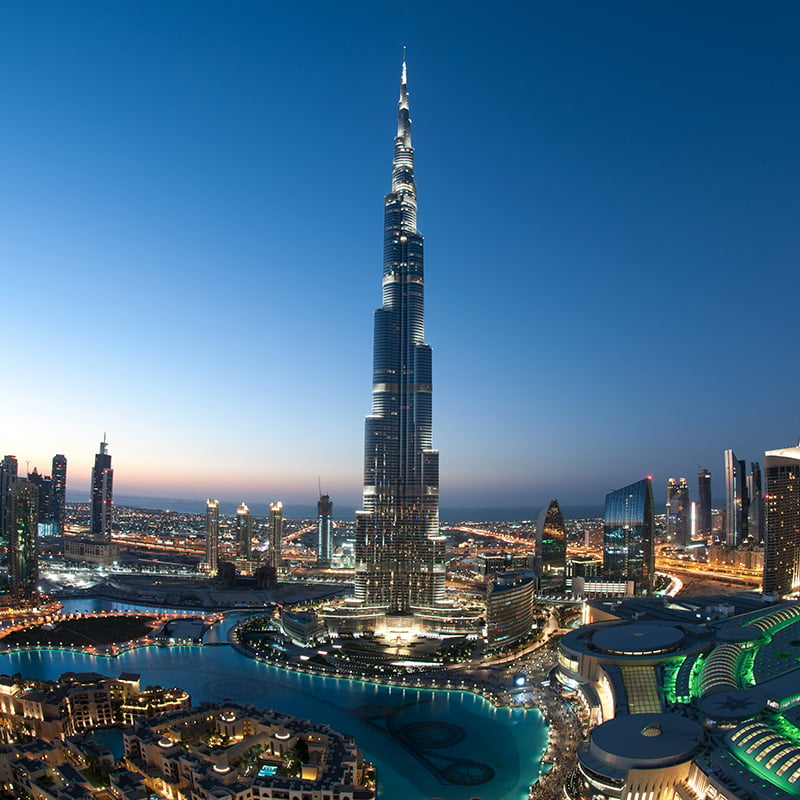 Introducing PayrollExpress
Drawing on 25-plus years of SAP® Payroll experience and a suite of proprietary and SAP®-certified software utilities, PayrollExpress, or PEX®, is the groundbreaking solution to 100% coverage of multinational corporations' employee populations on SAP® Payroll, for dramatically lowered compliance risk, improved data security, and far easier and more accurate global HR/Payroll reporting.
An SAP® payroll engine, on managed cloud infrastructure;

Maintained to include regulatory payroll compliance updates;

Interfaced with either ECC or EC core HR, or a plethora of 3rd-party core HR systems;

Rapidly activated through a Web interface, with no need for back- end access;

Sold on utility-based per-employee per month (PEPM) pricing;

Currently available in 27 countries, with a roadmap calling for 38 countries by the end of 2020;

Inclusive of SAP® Payroll Control Center (PCC) for more accurate and efficient processing, especially in a shared-services environment;

GDPR compliant;

Suitable for cross-country reporting;

Consistent in its User Experience; and

Globally supported.
PayrollExpress is currently available in 21 countries and can be built for any of the remaining 78 countries, where SAP Payroll is available.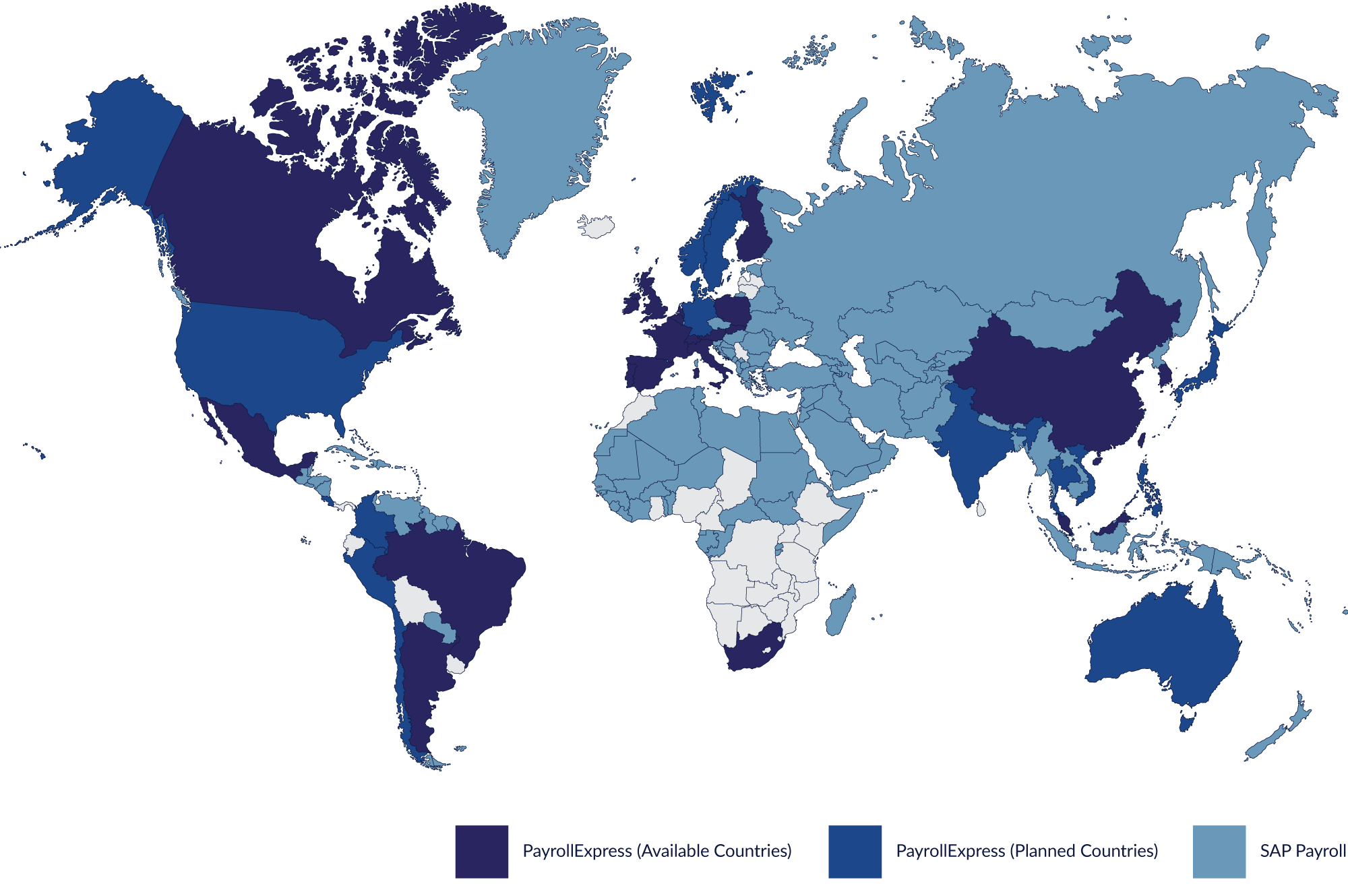 Need more information on PEX®?
Your Global Payroll architecture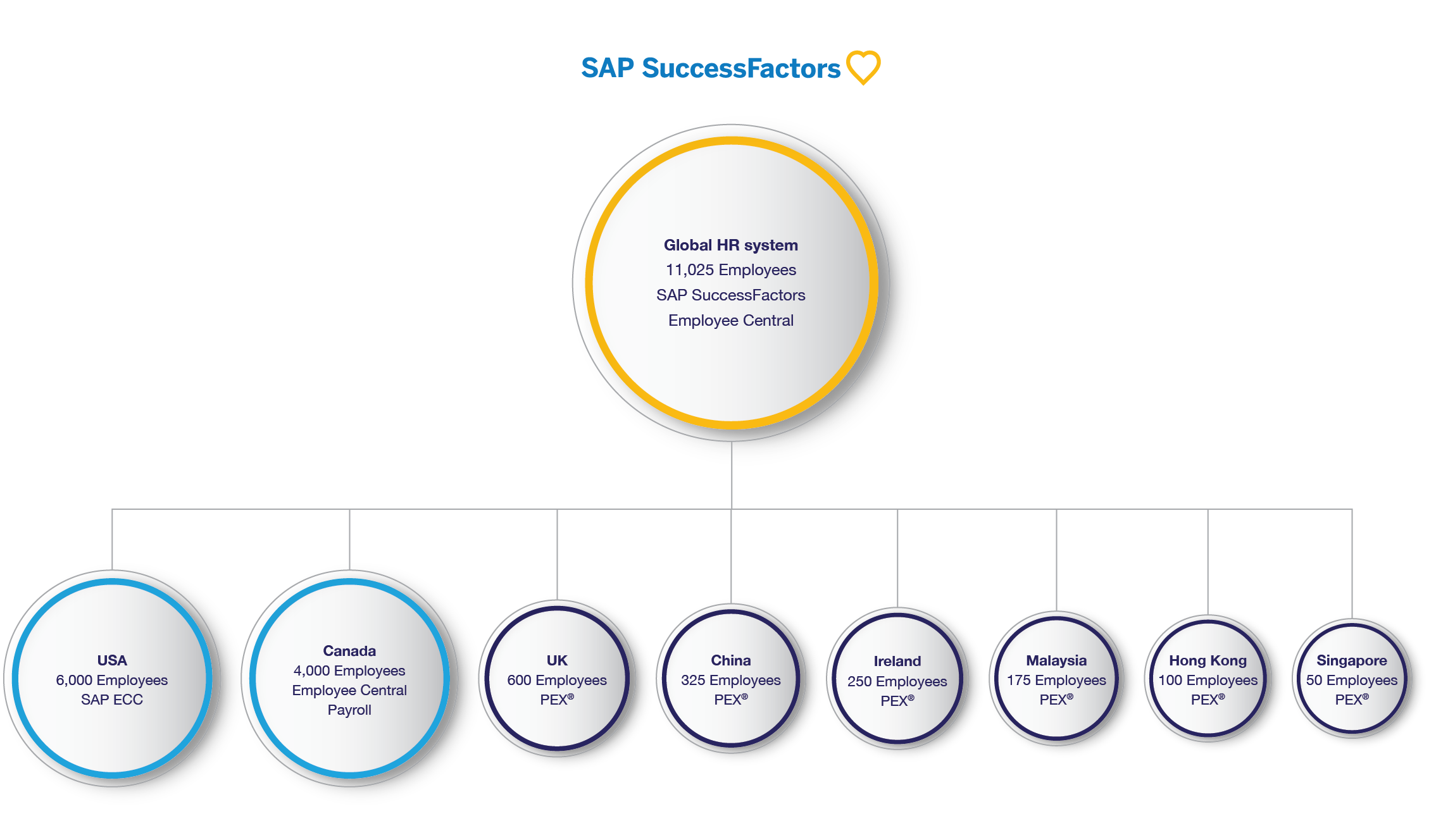 ps-hero-image
What about processing?
PEX® is a technology only solution by EPI-USE. It allows multinationals to deploy SAP payroll technology affordably in all countries, irrespective of the employee population size. This allows clients to consistently process payroll through a shared services center. Clients who prefer to outsource their payroll processing and associated tax filings can have this service as an elective add-on from our partner, Employee Managed Services ('EMS').